Dempsey's Web Page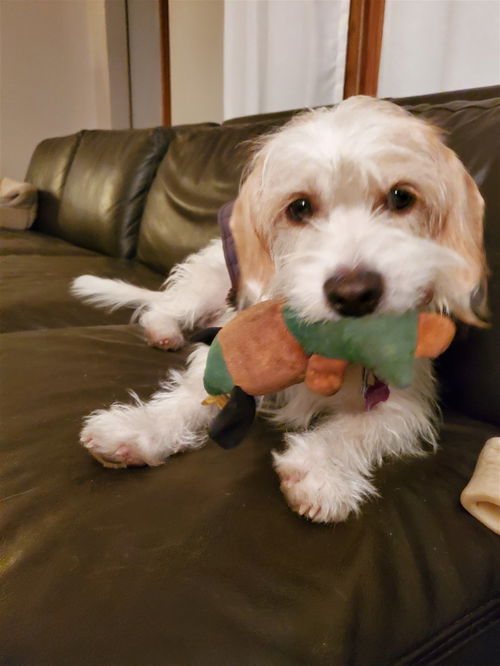 Won't you think about adopting me?
Find our applications at www.midwestanimalrescue.org
Adoption Fee $450 plus tax
Rescue ID:
19573 Old #19407
Breed:
Dandie Dinmont Terrier / Terrier / Mixed (long coat)
Learn more about the Dandie Dinmont Terrier.
General Potential Size:
Medium
Current Age:
2 Years 10 Months (best estimate)
Description:
Hey there, my name is Dempsy!

My foster parents don't know a lot about my past, but they know I probably had a rough start at life. I am now looking for a wonderful home that provides training opportunities, structure, and LOTS of patience. If this is you, please read on!

I've had some big changes recently and I need my new owners to go slow with me at first until I know that I can trust them. Once I know you're a safe person, I become VERY loving and will want to be at your side constantly, doing whatever you're doing!

It doesn't take me long to bond with new owners. However, because of my background, I need strangers to approach me in a certain way and I may be defensive if I'm rushed and haven't had enough time to settle myself. Sometimes it seems like I am really excited to meet a new person but if I'm allowed to meet someone at this heightened state, I may quickly change my mind and become defensive of my space. This means that, at this time, I cannot go to dog parks, backyard BBQs, or be in households where a lot of new people are always coming and going. My interactions with people must be controlled and handled how my trainer has expressed is best. Little kids are also very scary to me and I'd prefer not to be around them. It's even challenging to hear their voices which makes me want to bark. If you want to take me to a groomer or to the vet, please find one that is willing to go really slow with me, perhaps having a few meetings before any actual appointments. If I'm pushed, I will feel that I need to defend myself. I'm trying to get over my fear of strangers and my foster parents are working with a trainer on this. I have made progress since coming to MARS but I need a lot more practice.

Since I'm still pretty young, I really enjoy being active. I am a great companion whether we are walking a trail, running errands around town, or just chilling around the house! I am still working on good walking manners. I can be a bit of a wild guy at first but I do settle down after the initial energetic start. I just get SO excited because I love long walks and releasing energy! I do still need more practice on not barking when pesky squirrels or bikes pass me (sorry, not sorry)! Treat puzzles are also fun. I could probably learn almost any trick you teach me! I am crate trained, and I enjoy relaxing in my crate while my foster parents are away because that means I get an extra special treat! When they get home, I know I have to sit before being let out. I like most toys and am careful not to destroy them. (My favorites are squeaky toys!) I also love cuddle time with my people!

I am such a smart boy! In a short time, I've learned commands like "sit" and "shake". I know my name and I'm getting pretty good at coming when called, even with distractions! I like to do fun exercises that help me focus and learn to remain calm. Training with my foster family is SO MUCH FUN. I'm learning commands like "place", where I stay put on my spot while my person walks around me, leaves the room, and even 'knocks' on the door. I am learning to have good manners. I am food-motivated and love, love, love getting treats of ANY kind! I love life and thrive on structure and routine.

Since I'm a terrier, I can be a vocal and bark a bit and so shared walls (apartments) may not be the best for me. Living on a busy street where lots of people, bikes, and dogs going by will probably cause me to bark a lot. I have lived with dogs of all sizes. I can be naughty sometimes and try to convince other dogs that I'm the boss– and that isn't always appreciated. I sometimes try to be the boss of larger dogs too. (I'm small but mighty and have heard my foster mom say the phrase, "you bit off more than you can chew" when I pick on the big dogs. I'm not sure what she means because I think I'm a tough guy.) I have improved so much though. I used to get jealous if another dog in my foster home comes over to get attention, but I have since gotten over that and now I like my foster brothers and sisters.

I am learning to be a good boy but I need owners who are committed to ongoing training and lots of opportunities to practice. My issue with trust can be resolved eventually and my need for active lifestyle can be FUN for both of us. I know my perfect home is waiting for me… maybe it's with you!
*The pet you are viewing is a rescued pet which is most often from an animal control facility and does not come with a pedigree. The breed(s) listed are our best guess and are in no way guaranteed. Sometimes the pets appear to be a particular breed(s) in the pictures we receive from our rescue partners and when they arrive we are surprised to see an entirely different breed(s) in person! If you choose to DNA test your adopted pet, test results may vary from company to company and our breed guess may not be reflected in those results as it is just that, our best guess. It is with deep longing that we wish there was a breed called "cute" as we believe all of our dogs would fall under this new breed classification!
Completion of an Adoption Application via our website
www.midwestanimalrescue.org
is the best way to show your interest in an animal and is the first step in our adoption process.
*Animals who are not fully vaccinated and altered are not eligible for long distance adoption.
When you adopt a pet from Midwest Animal Rescue and Services, your adoption fee covers: Microchip and registration, Core Vaccines including Rabies, Distemper and bordetella, age appropriate heartworm testing or FeLV-FIV testing, sterilization, heartworm/flea-tick prevention and deworming while in foster care.
Adoption fees are non-negotiable and can be paid by cashier's check, money order or credit card. We do not accept personal checks.
Any issues that arise after adoption are the full responsibility of the adopter after the finalization of adoption. Adoption fees are only part of the expense of owning a pet, so we ask you to consider the costs for the life of the pet before adoption. We recommend pet insurance.
​
Videos of Dempsey:



Other Pictures of Dempsey (click to see larger version):

560.4k

1225.5k

248.8k

768.5k

534.9k